Reset (wipe) coins - How it exactly works and how to protect from this?
If you just want to know how to protect yourself from wiping the coins - go down (second paragraph)
Unlike other companies selling coins, we do not hide what can happen after coins purchase. Our top priority is always customer satisfaction, so in this article, we will present this risk in detail - how it looks in practice, what is the threat and how to protect it.
For some time now, after buying coins EA Sports (producer of the game) may punish you with warning and wiping your coins. This is obviously not the case in all situations, but you always have to take that risk into account. We take such risks in the rules and notices on our homepage. Actually our Comfor Trade (new, the safest method) isn't detected in more than 98,5% orders. We highly recommend this method.
Resetting the coins usually occurs between a few dozen or so hours after the purchase of the coins. Along with removing comes the information on the email, and information in the game that the acquisition of the coins was detected. There is also a message that in the case of further abuse the account may be banned. EA, however, for subsequent purchases in this FIFA gives you further warnings and resetting coins, not bans. We receive this information from our customers, and we do not get any complaints that a customer's account has been banned when the purchase was made.
Obviously, there is always the possibility that EA will change its policy and start giving bans, but so far this was only at the end of FIFA 15 - then the game has recorded one of the worst results, too often banning players turned against EA and since that, they quit from this procedure.
Update 21.04.2017: We have received reports from several clients that EA after purchasing the coins reset their FUT club. It is not banned but simply removing out what customers have in the club. It is possible to receive such a penalty from EA for the purchase of coins, but it is used in a small number of cases - usually, it is just resetting the status of coins.
It is also worth to overthrow the popular myth, applied to some sellers - the "origin" of coins. Well, it does not matter the way coins have been collected. Of course, this does not mean that we get them from sources of unknown origin. They come from our suppliers and customers who want to sell them. Resetting coins and receiving a warning results from the fact of transporting coins between accounts. That is to say - if you set up a second FUT account, earn coins and transfer your earned coins to your own, then you would also risk getting a warning and resetting the coins. Therefore, buying from any seller is associated with the same risk, there are no more and less safe sellers in this regard.
The biggest loss in getting a warning and resetting a coin is of course to zero the coins, but it's easy to protect yourself from this. Well: EA will only reset the status of the coins in your account at the time of reset (that is usually from a few hours to several hours after purchase). If the coins have already been issued, EA has no way of getting them. It is, therefore, important to spend them as soon as possible after you purchase the coins. It is best not to wait and do it right away, preferably within 30-60 minutes of purchase.
In such a situation, we advise you purchase a card, and when you want to use the coins to sell it. How to do it not to lose it? We present two solutions:
1. Purchase cards that cost little more than their quick sell value
The advantage of this is that the coins from these cards can be quickly recovered - simply by clicking "quick sell" on the card. For this purpose, we recommend in-form cards, preferably golden color. The search to find them should be set like this: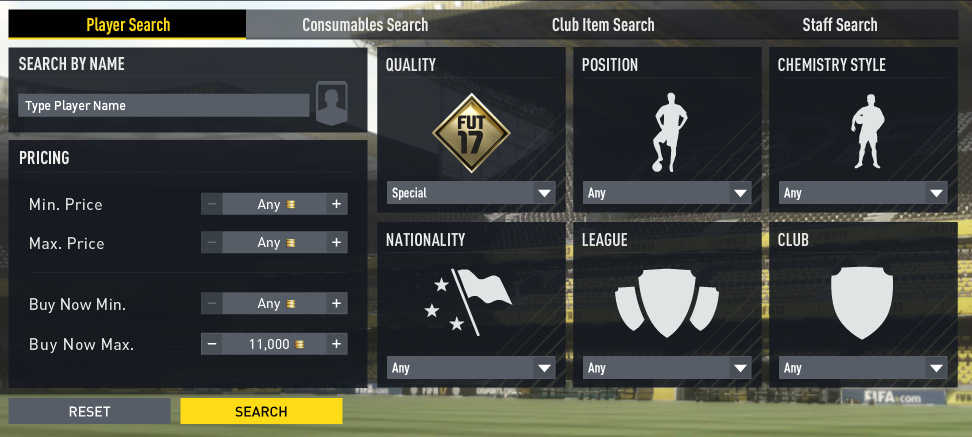 And you should buy only those cards that are golden. When few people play FIFA (i.e., in the early morning), such cards may be low, and then the maximum price should be increased when searching for them. Keep in mind that the gold In Form card has a quick sell value of around 9600-9800 coins, and that much will be able to recover from its sale (unless you try to sell it a bit more expensive on the transfer market, but you will have to wait for a moment to buy). You can also buy other cards, of course, but they have lower QS value, and you will have to buy more.
The quick sell values ​​of all the cards can be found at www.fifplay.com/fut-17-quick-sell-prices/
2. Purchasing cards whose value over time (differences are usually noticeable within a dozen or so days) increases
In the most cases these are special cards that have been in packages for the last few days or ended up a few days ago. We mainly recommend cards from the teams of the week. The team of the week changes every Wednesday at 19:00. Nevertheless, during the first days of the week, the cards of the week are overpriced, so we recommend using cards from the previous team of the week between Wednesday and Sunday. To find the appropriate card we recommend the page http://futbin.com, where the lower left corner are quick links to the teams of the week, and they have shortcuts "TOTW." If you are entering this site between Wednesday, time 7 pm, and Sunday, then we advise you to choose the previous TOTW team. If between Sunday and Wednesday (until 19:00) - you can choose the last team of the week. And if you go on Sunday? It is best to check both teams, card prices are different, depending on other additional promotions in the game. For example, during TOTS and TOTY, TOTW cards get very low prices.
At the time of writing the guide, the team is currently 27, but it is in packages for only two days, so looking for a sample player we enter team No. 26 on FUTBIN. At the time of writing the guide, their prices look like this: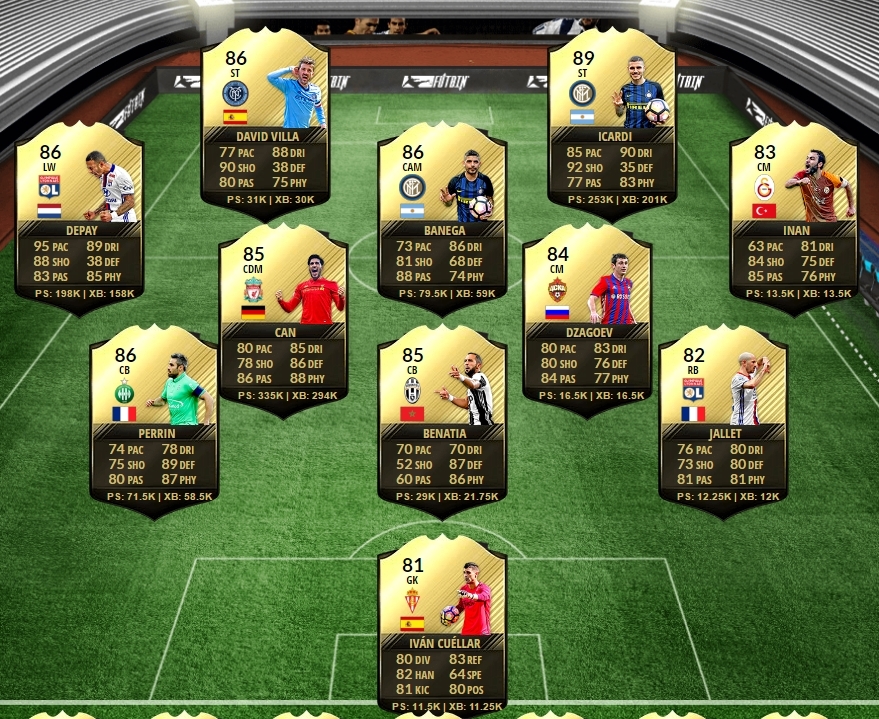 Of course, the choice of the card is directly related to how many coins you bought. In the most cases the price of these players over time should increase. A factor that can affect adversely is obtaining another InForm card by the player. It is, therefore, best to buy different players' cards to spread the risk as much as possible. If the cards hold for at least a dozen days, then there is a high chance that their value will increase. If anyone wants to convince you, we recommend you check out the weekly team at futbin.com a few weeks ago, enter the player's card and see a graph of his price since the card is in parcels - the vast majority show that the value of the player is increasing.
Therefore, if you have for example Xbox One 500K - in this particular case we would buy cards, e.g., Emre Can and Icardi. If you have a 100K PS4 release - a good way would be to buy Perrin and Benatia. Note: Players are only shown as an example to demonstrate how to choose them.
When you want to use coins, players must be resold - it is worth checking their current market price. Of course, to prevent wiping you can buy any cards, and it's better to buy any card than none, but here we advise what to do not to lose on the purchased players)