Coins promo FUT BIRTHDAY 2 FIFA 21
FUT BIRTHDAY Promo 2 FIFA 21 is active from 17:00 GMT 02.04.2021 to 17:00 GMT 09.04.2021 and consists of 3 elements:
1. Discount code: BIRTHDAY guarantees a 10% discount on the FIFA Coins product!
--------
Discount code: BIRTHDAY15 guarantees a 15% discount on the FIFA Coins product! (code works only for orders for at least 1 000 000 coins)
2. Additionally, we have attractive prizes to win for you. This time they are:
- Lucas 89 FUT Birthday
- Perisic 90 FUT Birthday
- Bergwijn 89 Future Stars
3. There will be contests on our social media in which the task will be to guess the specific cards used to create the one on the picture. On graphic we will show a card created from 2-3 different players (combination of statistics, photos, etc.)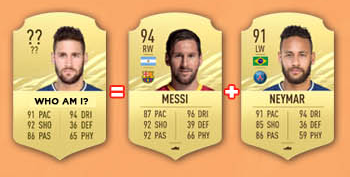 For example, the card on the left was a combination of Messi and Neymar, and that was the correct answer.
The competitions will be held on our social media
Instagram: LINK
Facebook: LINK
Promo terms:
1. FUT BIRTHDAY FIFA 21 promotion 2 is active from 17:00 GMT 02.04.2021 to 17:00 GMT 09.04.2021
2. Discount codes works only for the FIFA Coins product.
3. We will announce the prizes winners in a specially prepared article in the form of order numbers after the end of competitions.
4. Prizes for buyers from can be won on terms "The more coins you buy, the greater the chance of winning"
The more coins you buy, the more tickets you'll receive, i.e. when you buy during the promotion:
0-99k - you get 1 lottery ticket
100-199k - you get 2 lottery tickets
200-299k - you get 3 lottery tickets
300-399k - you get 4 lottery tickets
and analogously, f.e.
500-599k you get 6 lottery tickets
....
1300-1399k you get 14 lottery tickets
The number of tickets is determined on the basis of total purchases for a given FUT account during the competition period, f.e. by buying 3x30k (90k in total) you'll receive 1 ticket, not 3 tickets!
5. In competitions all orders for coins submitted and paid since the start of the promotion and end of the promotion are included.
6. The administration is not responsible for incorrect use of the promotion.
7. Complaints regarding the promotion can be submitted in electronic form to the email address: wspolpraca@supercoinsy.pl within 14 calendar days from the end of the promotion.
8. Complaints will be considered within 14 business days of receipt.
9. We reserve the right to end the promotion at an earlier date for reasons beyond our control.