How to pay with PaySafeCard?
On the supercoinsy.pl website, you can pay for products using PSC (PaySafeCard). All you have to do is provide your PSC code or pay for the order through a myPSC account. With this payment method, an operator's commission of 12,5% is also charged.
How to pay with PaySafeCard?
1. Choose your product on the website's menu
Or in the mobile version​:
2. When paying with PSC, a fixed 12,5% commission is charged. To make things easier, we have added buttons that correspond to PSC denominations​.
YOU DON'T HAVE TO COUNT HOW MANY COINS YOU WILL GET FOR PSC, ALL YOU HAVE TO DO IS PICK YOUR PSC DENOMINATION AND CLICK THE BUTTON – THE WEBSITE WILL JUST SHOW YOU HOW MANY COINS YOU CAN BUY FOR A PARTICULAR PSC AMOUNT.
3. We have used a sample denomination of 100 PSC. The website has calculated how many coins it gets (in that case, using the "COMFORT TRADE – NEW, THE SAFEST" method for PS4). All you have to do now is "ADD THE PRODUCT TO THE CART"
WARNING: DON'T CHANGE THE AMOUNT OF COINS TO A BIGGER ONE MANUALLY AFTER IT GETS CALCULATED UPON CLICKING A BUTTON. OTHERWISE, YOUR PSC CODE MAY NOT BE ENOUGH TO PAY FOR THE ORDER.
4. Then you have to fill out the info on your order, following the instructions displayed on the website. After you're done, just click "NEXT"
5. The next step is order summary. If everything is okay, just click "PAY"

6. Choose "paysafecard" out of the payment methods and click "PAY"
7. You'll get redirected to the PSC website, where you just have to provide your PSC code or pay with a myPSC account.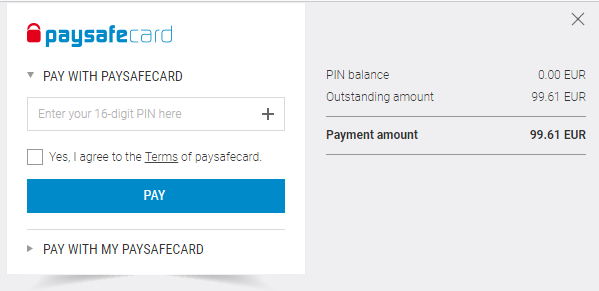 8. If the payment has been successful, the order will automatically change its status to "PAID" and be sent for processing. We will notify you on the progress via e-mail.